The last few weeks have been nicely jam-packed with activities, which have included meeting with local authors and my own author life works.
Las Cruces Writers
A few of the many local authors had our first in-person (since the start of the COVID pandemic) Las Cruces Writers group meeting at Cafe de Mesilla. The owner, Joyce, like the rest of us, loves George Pintar. What's not to love about this author of Adventures of Chile Charlie?
Here's a great photo of George and David Osterhout, author of Oink!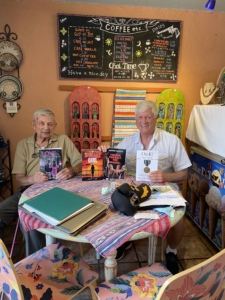 Las Cruces Writers had our first ever book signing event at the courtyard Marriott over by NMSU. We agreed it was a great success. Since I don't have my book out yet, I took the sign-in sheet clipboard duty (and handed out my business card) while the others signed and sold books. We all met a lot of nice readers, many of them fans of Rachel Glicker, author of popular dystopian thrillers. (Thanks go to her eldest, Jack Glickler, for his phone photo-taking and personable help to the authors!)
Author Life
Recently I turned over some ideas for updating this website to Sully of Sullivan Designs, LLC. We will see a site refresh in the near future. Thank you, SULLY! (Stay tuned for more and sign up to be notified of posts and news (e.g., dates of the book launch, pre-order dates, and more.)
I took a moment in between things to become a member of The Lighthouse Preservation Society, a worthy organization of good works for lighthouses. Their dining at the top of a lighthouse (in Newburyport, Massachusetts) looks fun!
Videos & Feeling the Squirm, Continued
I made a few short new videos for social media and Andersen Light: A Mystic Creek Novel—still squirmed, but it's worth it to share about the world of Andersen Light and the characters with you.
Book Report
Working with the publisher reps has been a joy. I continued to coordinate with the editor Laurie Knight and book manifester/wizard Sheryl Babin.
I learned that Andersen Light: A Mystic Creek Novel will be published under Empower Press, an imprint of GracePoint Publishing.
This last week I did what is termed a final author proofread of the manuscript. I call it reading with a mission—with a metaphorical fine-tooth comb. (I hope I did right by you glorious readers!) It was kind of like a marathon book read, but any time I get to spend in "Mystic Creek" is fantastic.
It is an exciting time to experience the pieces (ISBNs, book cover, and more) coming together and readied to be shepherded into the "real" world.
Thank You
We all know how much data and reading is available in the universe. Thank you for giving your time to read this blog, follow me on social media, throw your likes and comments at them, and for occasionally reaching out to ask, "What's up?" I appreciate you.
---
Fiction writer and author, Tanya D. Dawson, has written a story for the young adult in all of us. Andersen Light: A Mystic Creek Novel is an atypical tale set in our everyday reality alongside an unknown world of extraordinary others. This becoming-who-you-are adventure breathes fresh air and light into the world of YA fiction, without giving up the angst or the weird. Andersen Light: A Mystic Creek Novel resonates like Harry Potter, if he was a girl who stepped into Richard Bach's book Illusions.
Georgie Jones rescues her siblings then saves a new friend from a high school bully, but will her newly ignited strengths help her find and free her kidnapped friend?
Can lighthouse keeper and mentor Luther Andersen help Georgie regain her confidence, develop her abilities and become who she was born to be?
While Andersen Light is primarily set the fictional town of Mystic Creek, Oregon, Tanya lives with her amazing husband, fellow Star Trek and Star Wars fan, in the enchanting American Southwest.
---
Instagram @tanyadawsonauthor Facebook @TanyaDDawson
Tik Tok @tanyaddawsonauthor Twitter @TanyaDDawson
---
Early endorsements of Andersen Light: A Mystic Creek Novel
"You really are evidently an extraordinary writer. Show the world you are an extraordinary storyteller, too. You have a beautiful style and a great eye for detail. Your story is lovely. I can see it being commercial. Yay!" – Carmen Fox, author of Show Don't Tell: Immersive Writing from the Roots Up, as well as urban fantasy, paranormal romance, young adult novels, puzzles and games.
"A great read, intriguing from the beginning to the end. Suspenseful, but at the same time a great adventure. It encouraged me to open my mind to possibilities. I am amazed and in awe. What a glorious and sacred space you've created in Andersen Light: A Mystic Creek Novel." – Adolfo Quezada, author of over twenty five spiritual books, retired counselor and psychotherapist.
"I enjoyed very much reading your book… interesting that it delved into areas that I know very little about. I want to read it again. It was action packed and kept me intrigued with what would happen next. I hope you can continue to write about more of Georgie's adventures." – Susan F. Mitchell, Defense and intelligence contractor executive, retired; former executive board member, National Classification Management Society; spoiler of grandchildren.
"In her debut novel, Andersen Light: A Mystic Creek Novel, Tanya D. Dawson weaves an empowering tale of adventure, intrigue, and mystery. A mystical coming-of-age story involving a race of "meta-normals" living among humans in the modern-day world, the novel inspires courage to be the very best version of one's true self. A bold new addition to young adult fiction!" – R. D. Petti, author of the Nettie's Tea House series including: A Tale of the Afterlife, Beyond the Veil, In the In-Between, Apple Blossom Spring, and Yuletide Homecoming. She is a Letters member of the National League of American Pen Women. "Reflections on a Passing" was awarded a first place poetry prize and published in Illuminations of the Soul. "Ghosts of Lakeside Inn" was selected for publication in The Best of Spiritual Writers Network 2016. R. D. Petti is an award-winning finalist in the Fiction: Visionary and Fiction: New Age categories of the 2018 International Book Awards.
"Andersen Light: A Mystic Creek Novel is a clever story with a fresh perspective that normalizes people possessing metaphysical spiritual gifts. Becoming fully one's self, strengthening powerful attributes, contributing to the exposure and defeat of negative forces is all part of growing up for teenager Georgie Jones and others like her. Their adventures provide insight about paranormal phenomena, as they take the reader into a world filled with pain, crime, love, compassion, friendship, and evolving humanity. If you want to expand your understanding of what it means to be a spiritual being having a human experience, this book is for you."– Dalene Fuller Rogers, M.Div. BCETS, is an ordained minister and author ofPastoral Care for Post-Traumatic Stress Disorder: Healing the Shattered Soul, contributing writer in Forgotten Followers, and creative director and founder of Insight Multifatih Spiritual Direction.
---
Learn more about Lighthouse History and Preservation!
https://tanyaddawson.com/wp-content/uploads/2021/08/Tanya-at-LC-Writers-Book-Signing-july-2021-300x257-1.jpg
257
300
Tanya Dawson
Tanya Dawson
2021-08-14 13:43:52
2021-10-01 13:48:38
Local Authors, Author Life & Book Report